Can't find what you're looking for?
Check out Pit & Quarry Magazine:
To contact our staff:
1360 E. 9th St., Suite 1070 Cleveland, Ohio 44114
Phone: 216-706-3700
Toll Free: 855-460-5502
Fax: 216-706-3711

Buyers Guide Sales
Advertising Sales Staff
Editorial Staff
Products
SAFETY

- EQUIPMENT, SUPPLIES

SAFETY (Cont'd)

- PERSONAL PROTECTION
|
Brands
Everlast

Tech-3D

Fasttags

TechBrite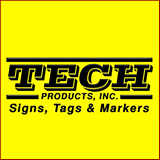 Tech Products Inc.
Contact Info
Street Address
105 Willow Avenue
Signs, Tags and Markers
Staten Island, NY 10305
Social Media
Key Contacts
About Us
Tech Products, Inc. is your global source for quality identification products to the Mining and OEM market. Since 1948, Tech Products, Inc. has been manufacturing Tech-3D embossed metal name plates, Everlast pole tags, Fasttag cable markers, decals, and safety labels/signs. Nameplates are available in aluminum, stainless steel, brass, cold rolled steel, tin plated steel & high impact plastics. Everlast signs are the perfect product for your danger/notice/safety signs.

Where to Buy
We have a friendly and knowledgeble staff that can help you find the best product for your budget. We also work with all of the major distributors including; Graybar, Anixter and Wesco.